Solutions
Omnichannel Analytics
Our unified approach to integrating retail and ecommerce data with inventory, sales, production, fulfillment, supply chain, marketing, social media, aftermarket, and other business logistics data across all channels into a single omnichannel experience provides unparalleled business advantages.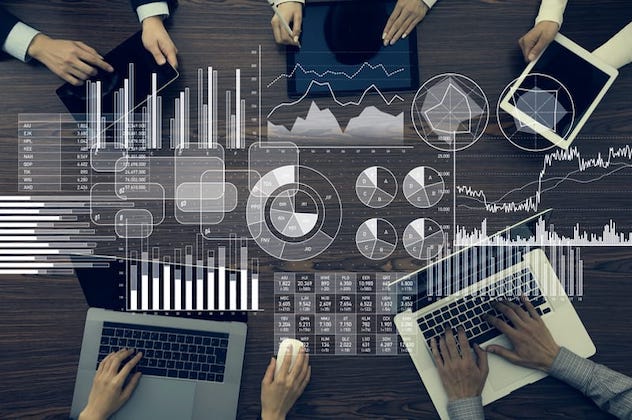 Unified Single View, Helps to Make Better Decisions
Omnichannel analytics provides a unified view of all channels, giving businesses unprecedented visibility into their performance. This visibility makes it easy to spot strengths and weaknesses, which can then be used to make better business decisions.
Key benefits of our omnichannel analytics solution:
Easy to use:

Our analytics solution is designed to be easy to use, even for users with no technical experience.

Mobile-first:

Our analytics solution is available on mobile devices, so you can access your data and insights on the go.

Real-time:

Our analytics solution provides real-time insights, so you can make informed decisions quickly.

Vertical integration:

Our analytics solution integrates across all data points, so you can get a complete view of your customer journey.
Increase Customer Engagement, Sell-through and Revenue
With omnichannel approach, our models use customer behavior, performance, and sales trends from multiple channels to predict and recommend:
Customer targeting to improve overall engagement
Price optimization to drive better sell-through
Upselling and cross-selling opportunities to increase sales
Increase sales by meeting trends and customer demand
Find Growth Opportunities
Our AI based ominichannel solution helps businesses grow sales by understanding customer behavior, purchasing trends, and average spend.
By analyzing this data, businesses can identify their best stores or ecommerce markerplaces and focus on growing sales there.
The solution also identifies low-performing channels and provides insights on how to improve them. This allows businesses to make data-informed decisions that will help them grow their sales.
Here are some of the specific benefits of using our Ominichannel solution:
Increased sales:

Understanding customer behavior and purchasing trends, businesses can identify opportunities to increase sales.

Improved customer experience:

Providing a more personalized and relevant experience, businesses can improve customer satisfaction and loyalty.

Reduced costs:

Automating tasks and processes, businesses can reduce costs and improve efficiency.

Improved decision-making:

Having access to end-to-end business data in one place, businesses can make better decisions.
If you are looking for ways to improve your business, Pathanalytics Omnichannel Solution is a great option.